Story by Audrey Woodhams
On a balcony in Tel Aviv, with a view of the Mediterranean Sea in the distance, Tabea Oppliger stands with her easel. Music and children play in the background as she touches her paintbrush to the canvas. She paints the ocean of her childhood and the sea where she now lives. In daring waves of color and detailed hidden treasures, her work displays her personal faith, her life's work toward redemption, her trials and triumphs.
Tabea grew up in Papua New Guinea, a Swiss missionary kid who loved the sand and surf. "People call me 'Mermaid' for good reasons," she says. "Whenever I am off [work] you will find me at the beach doing some sort of water sports: surfing, paddle-boarding, kite-surfing, wind-surfing, swimming."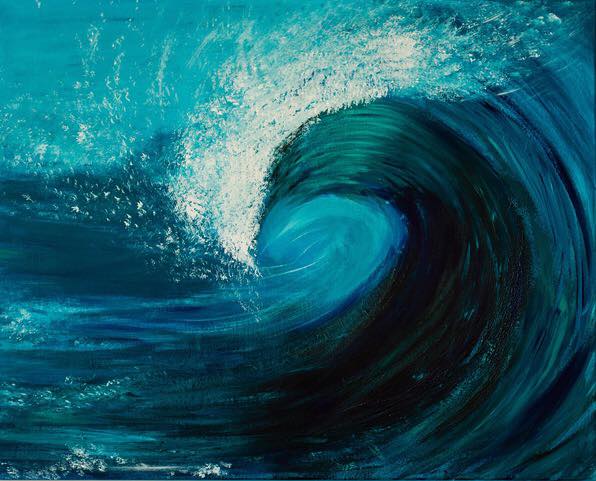 She discovered her love of painting as a young woman when she and her husband, Matthias, bought their first apartment.
"Somehow the feeling of owning a place made me want to hang very meaningful pictures on the walls," she says. "A friend whose mother was an artist inspired me to start painting with her." It was not long before her home was filled with personal works of art.
Today, Tabea is the founder of GlowbalAct, a Swiss non-profit organization dedicated to ridding the world of human trafficking. She is the pioneering spirit behind Kite.pride, a social business in Tel Aviv offering recovery and safe employment for ex-victims of the trafficking industry. She is also a busy mother of three.
With myriad demands for her time, she says, "I have to deliberately make time to paint."  But painting is more than a creative pursuit for Tabea.  She describes her art as a confluence of her personal journey and her spiritual faith: "It is like therapy to me, and an appointment with God himself." 
Tabea tells the stories for her collection, how each painting came to be: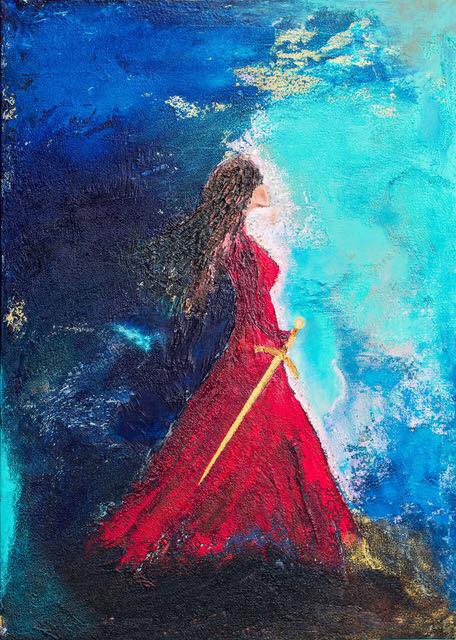 Emerge, was inspired by Tabea's work with GlowbalAct, specifically as she walked with several women through recovery. "The woman [in the painting] is emerging from darker waters into the light," Tabea describes. "Her posture is one of fully restored identity, chin up, determined yet soft and gentle, hand firmly gripped on her sword because she knows how to fight, and she knows who she belongs to. Her robe is ruby red symbolizing redemption and worth and dignity. At the same time if you do not focus on the emerging woman and zoom out, her profile could also be the shore line of an island. That's what I like to do. Just play around with people's imagination as well with the abstract in my art."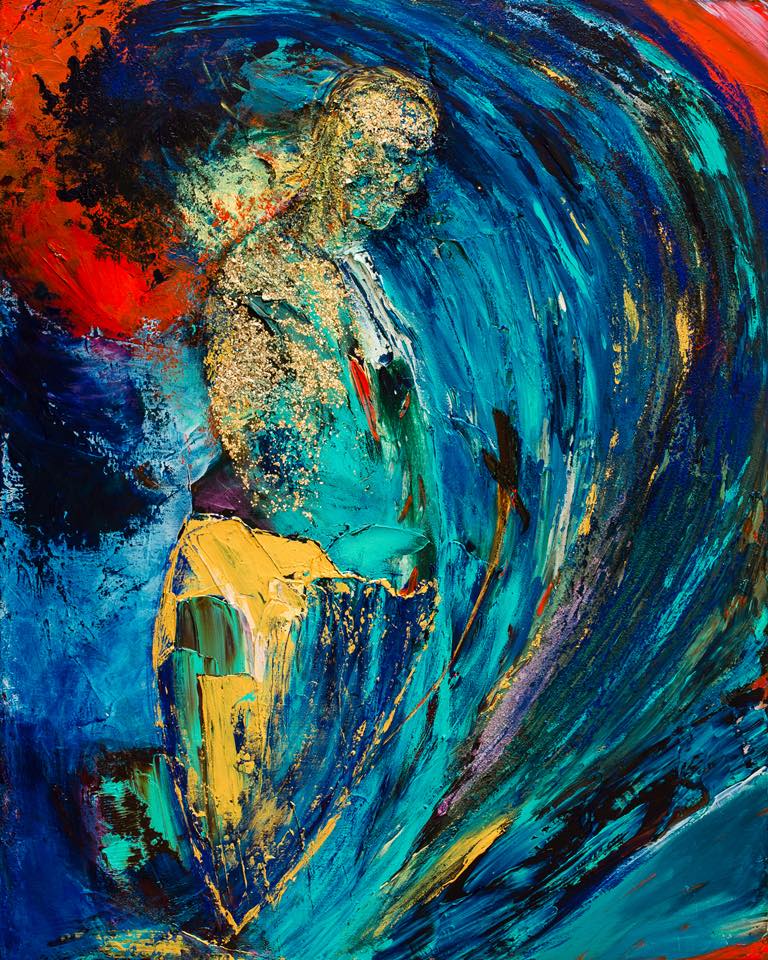 Tabea tells the story of The Silent Warrior: "It happened during a very challenging season in my life. A lot of things threatened to swallow me and wipe me out like a gigantic wave. At the same time I was beginning to see and feel God in a totally different way of his passionate love for me. Wave after wave of his love crashing, with a fiery touch to it, lighting up the back of the warrior's neck and coming up over his head. The warrior kneels in total surrender, head humbly bowed, silent. It's as if God whispers, 'Be still and know that I am God. I've got this and you have your sword and shield.' This painting literally has a thousand different colors. It lights up with the sun dancing on it, bringing forth so many different shades and tones and colors, almost like a diamond. That reflects God's love, how he wants it to be seen and carried out into the world. I kept hearing the quote, 'May love be the last great act to shock the world.'"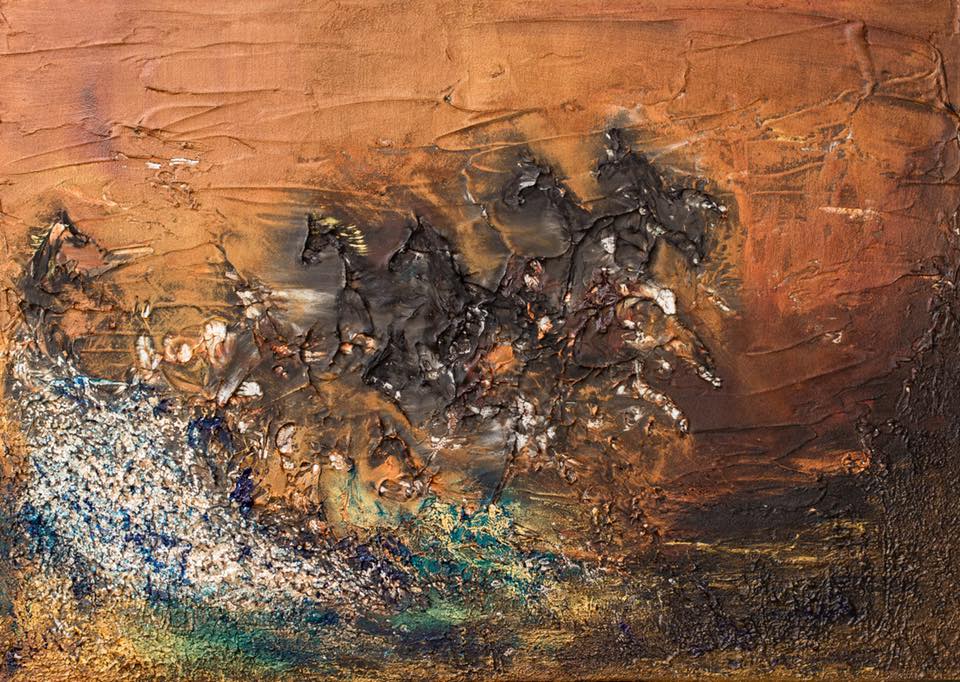 "Wild is my favorite color," Tabea says with a smile, "and those who know me can confirm that. This painting was more of an experiment to see if I could actually do the horses. I don't usually paint things or objects deliberately. They just begin to take shape in my abstract art as I do the first few layers with modeling paste. Then I step back, and look what I see, and carve them out. This one was different. I began to sketch horses into the wet modeling paste and then added the colors. Some of my friends asked me if it was the parting of the Red Sea. I actually loved that they said that, because that adds the 'free' to my 'wild.'"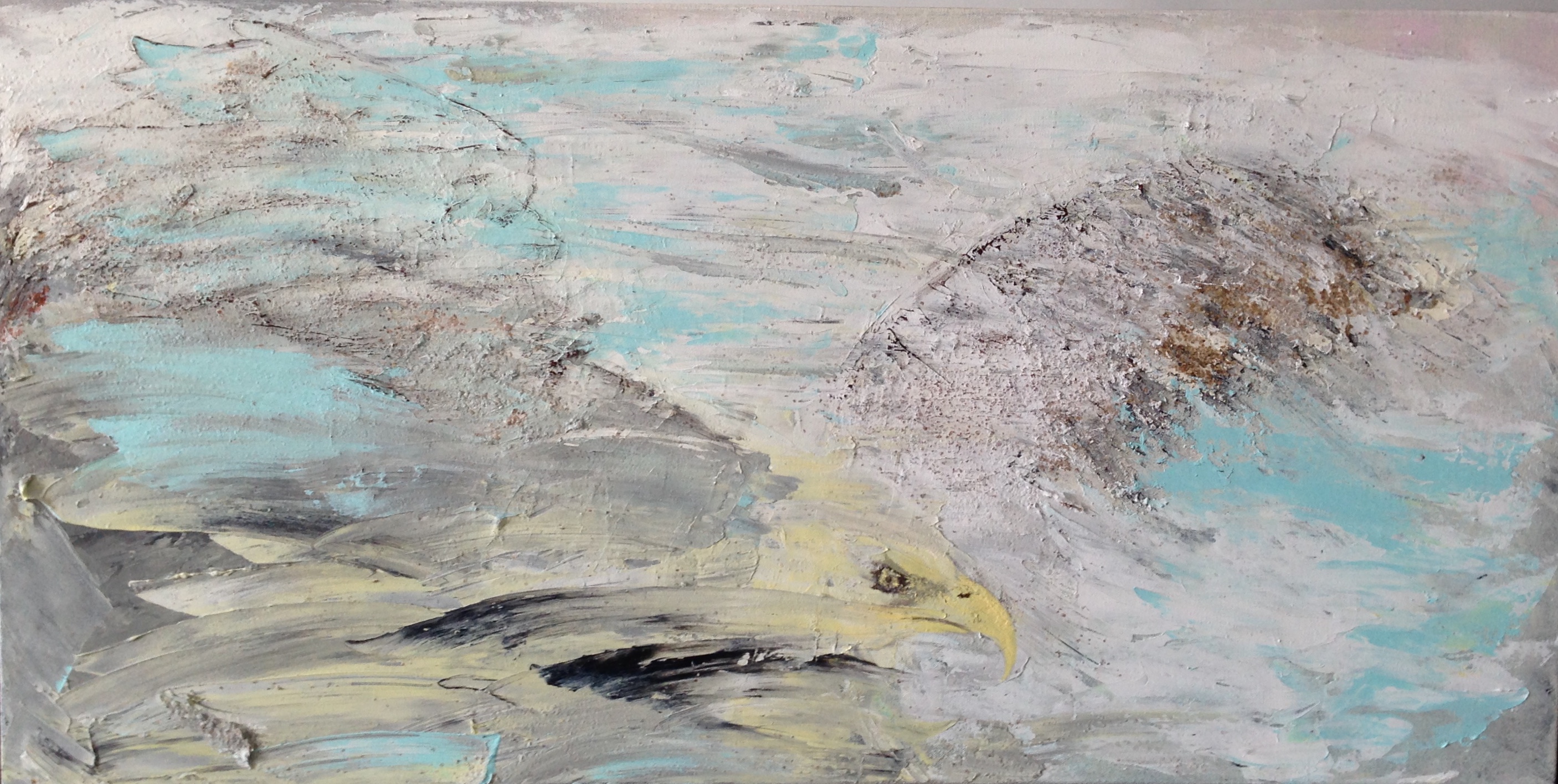 "Rise and is based on the Bible verse in Isaiah 40:31, 'But those who hope in the Lord will renew their strength. They will soar on wings like eagles, they will run and not grow weary, they will walk and not be faint,'" Tabea reveals. "This one is a great example of God taking hold of the paint brush. I couldn't paint an eagle if I tried! I was working on wings with the modeling paste and I just didn't like it. So I kept adding colors and paste here and there. Then I stepped back and suddenly saw an eagle's beak, so all I had to do was carve that out and work on the eye. I was fascinated that the head was positioned exactly where it should be for the spread wings, and the strokes of darker paint were exactly the proportions of the body."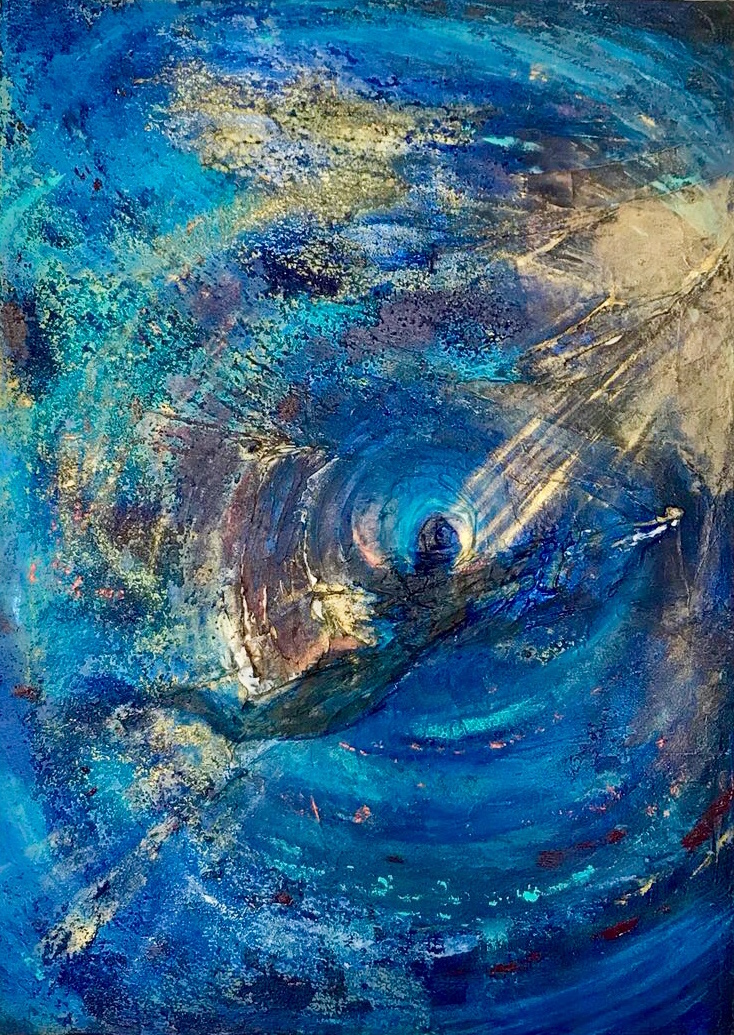 As Tabea painted Lost in Worship: Found in Him, "I saw a large eye appear from the side," she explains, "but I didn't really succeed in making the eye my main piece. So I went on to doing swirls of water as I was listening to songs and falling deeper into God. I then went on to painting rays of light beaming into the water. Then, in my inner spirit I pictured myself when I dive deep down in the ocean and then just love to float up towards the light. I then began to see this person in my painting, and started to paint her. I made her head the pupil of the eye so, if you zoom out, you still see the outlines of the eye. The woman lost in worship is found in the apple of God's eye."