Sometimes I think that when I die, I'll get to the Pearly Gates and David Bowie will be there, waiting for me. He'll be sitting at an elegant podium, smartly dressed, with a large, time-worn leatherbound ledger in front of him. The ledger will be open to a page that holds an accounting of how much creative impact I had in my life.
David Bowie will look me over with a withering glower, like Jareth the Goblin King, and say something like, "Alright, let's get down to it. You were sent over to my desk because it says here that you were a visual artist and you also liked to knit and blog. What do you have to show for it?"
Next, a heavenly review ensues where all of my artistic output from the age of three onward goes by in a flash, I see many people enjoying and appreciating the art that I made. David scribbles some heavenly number in a column in the ledger with an old fashioned quill pen like a Dickensian clerk.
Then, amazingly, we review all the work I was supposed to create in my lifetime but didn't. I see walls in people's homes that have paintings and prints hanging on them that I should have created. The artwork fades away, leaving a blank wall. Someone is wearing an elegant cashmere coat I was supposed to design and knit, and then suddenly they are standing out in the cold in a T-shirt. Then I see the never-published viral blog post, being shared around the world by thousands of people who are amazed and inspired by my words. It fades from the screen. I see the photos I didn't take, the doodles I didn't doodle, the yoga classes I didn't teach, the book I didn't write, the retreat I didn't lead. And so on. 
And lastly, he shows me the Oscar-the-Grouch-green sweater that I actually started knitting for him – for David Bowie – in the mid-aughts, the one I fully intended to send to his personal assistant to give to him. It was meant to be a thank you for his 2003-04 "Reality" Tour. I had an inkling, but no real idea, if he would wear such a green hand knit sweater. I was going to make it and send it and let go of the outcome.
I never finished it. Life "got in the way." I started caring about the outcome. My determination faltered, driven by that same lack of creative confidence that stops me, mid-project, more often than I would like to admit.
I felt guilty about not progressing on that sweater, but never picked it up again. And then, on January 10, 2016, it didn't matter anymore.
Once, shortly after he died, I googled "David Bowie green clothes" to see if he ever wore anything of that color. Would he have even considered wearing that sweater if I had sent it? And I found a photo from his later years in which he was wearing a green scarf. An Oscar-the-Grouch-green scarf.
And, now, at the gates of Heaven, here it was. The one meticulously seed-stitched sleeve that I was working on before I gave up on the project, morphing into the full sweater it was meant to be. David picks up the sweater and ceremoniously puts it on, stroking the now-full sleeves and smoothing the front bodice over his torso. He tucks his hands into the little patch pockets, gives me the glower again and I think I'm done for.  I'll be spending an eternity in some creepy existential castle with M.C Escher staircases leading nowhere,  surrounded by annoying muppets and an incessantly crying baby. 
He pauses for effect, because he's an actor like that, and while keeping his steady mismatched gaze on me, scratches something in the next ledger column. He clears his throat. 
Ever since I was twelve I had dreamed of meeting David Bowie. But not like this.  
I take in the impact of all those unrealized creations. The joy, delight, awe, comfort, insight and beauty that was missed out on because I was too busy, too broke, too preoccupied with mindless social media, news reports and late night comedy videos. 
Then, David Bowie breaks out into that incredible wide toothy grin of his. His eyes crinkle at the corners. He smacks the ledger shut and says with a hearty laugh, "Go on, your art studio is down the second street to the right. I'll catch up with you later for some tea." 
I look at him, a mixture of incredulity and relief on my face. He leans over to me and says, in a soft voice, "The same thing happened to me when I arrived. Leonardo showed me myriad projects I didn't get to. Half-baked ideas. Abandoned paintings. Unfinished projects. Collaborations never explored. All artists arrive here in the same sorry state." 
Today marks two years since David Bowie passed on from this earthly existence to whatever existence awaits us. Shortly after he died, when my initial shock and grief began to subside, I vowed to follow his example and more fully live into my creativity, and to help others, especially those of us in the second half of life, do the same. 
I never honored David Bowie with that sweater. But I can honor him by being unafraid to create, to share my thoughts and vision using the talents I have been gifted with. I want to fill up that ledger as much as possible.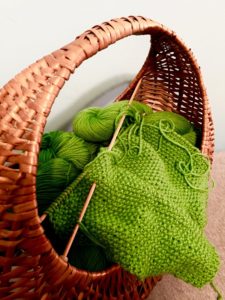 "Look up here, I'm in heaven."
— opening lyrics to Bowie's 2015 song Lazarus.
This piece was first published on January 10, 2018 at Connie's blog.
Feature image © Jimmy King.