Story by Audrey Woodhams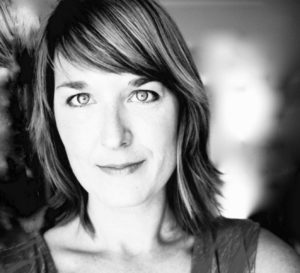 Tammy Rochelle will write a soulful folk song, then she'll travel the world with her guitar to sing it just for you. When she gets home to Nashville, Tennessee, Tammy will whip up a batch of homemade soaps and body scrubs to make your shower a sweet-smelling luxury experience. She'll craft a pair of earrings to compliment your favorite work outfit, and paint a beautiful canvas to hang above the mantel in your living room. Then, lest you think she's finished, she and her husband, Joseph, will travel the world again – this time to teach kids how to write songs, play guitar, make soaps, design jewelry, and paint canvas, too.
When I sat down with Tammy a few months ago, this was my first burning question: What is the source of her creative energy? Whence comes the motivation to give the world so many gifts? Her answer surprised me. Tammy revealed a deep story of resilience – trauma, a mother's wisdom, and painting as a pathway to healing.
Tammy's boundless creativity found its beginning in a happy and creative childhood, supported by her mother, Lauren, who nurtured her artistic impulses. "As a child I spent a lot of time doing imaginative things – thinking, making up games, making jewelry, coloring, singing," Tammy recalled.
Tammy moved to Nashville in 1998 to pursue music and a degree at Belmont University. She started playing local shows, made her first album, and embarked on her first European tour. She traveled to Africa, Central and South America, and lived in Australia for almost a year – performing her music along the way. She made another album, then another, and continued to tour Europe every year.
But beneath the sparkling ocean waves of music, travel, and adventure, Tammy was experiencing a deep undercurrent of trauma and pain. By the summer of 2008, she was immersed in heartache.
One morning, while Tammy was visiting her mother's home on the coastal plains of North Carolina, Tammy became frustrated and started criticizing herself. Lauren overheard the harsh words. "She asked me, 'Do you always treat yourself like that?'" Tammy recalled. "It kind of shocked me because I hadn't stopped to think about how I was being so unloving to myself."
Tammy's mother gave her $100 and sent her to the local art store. "She told me to go out and buy paint and canvas and come back and start painting. That moment was pivotal for me. Honestly, I had become jaded and cynical and didn't recognize myself anymore. I think that my childlike joy that had followed me all of the way into adulthood disappeared."
That evening, Tammy sat on her mom's kitchen floor and painted. Tammy painted again the following night, and the night after that. Each morning, Lauren awoke to find a new work of art. "The paintings that were coming out of me actually surprised me," Tammy said. "They were bright and colorful and full of joy. When I came back to Nashville, one of my closest friends asked me what I did because I was glowing and looked 10 years younger."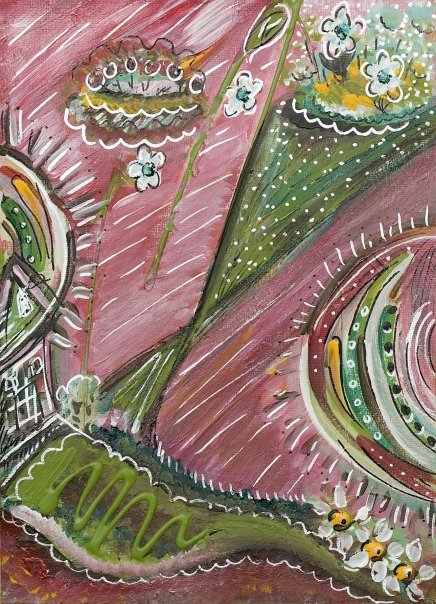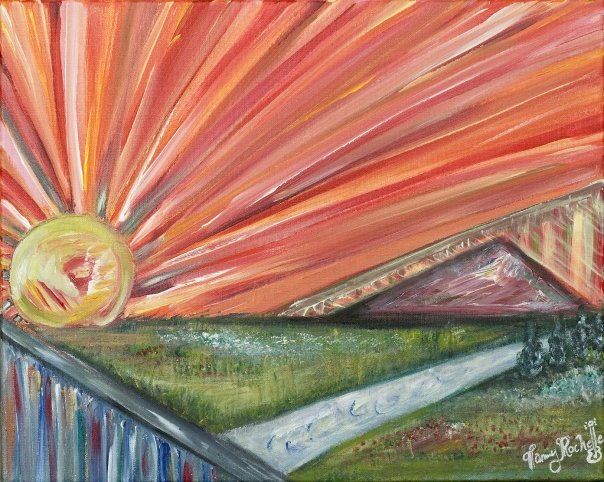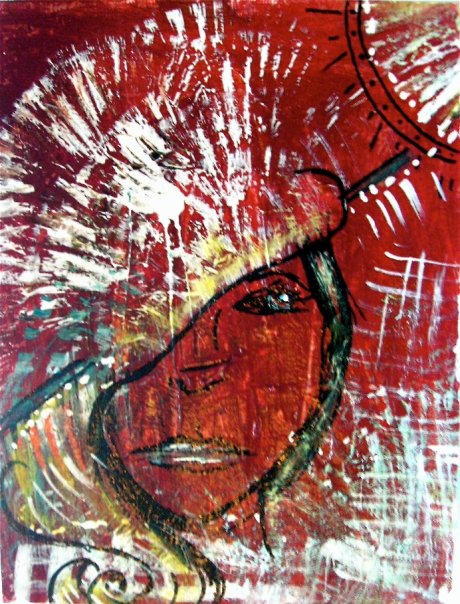 That year, Tammy created 75 paintings, and hundreds of earrings. Friends encouraged her to sell her artwork at local fairs.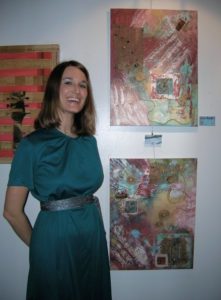 "I had just walked through a few years of pretty severe trauma. Painting really felt like it was freeing me and re-introducing me to love and wonder," Tammy said. "I think that painting somehow was accessing my true self and reconnecting me with simplicity again. I felt like God took his hand into my soul and pulled out the roots of bitterness and anger with art."
And the recovery didn't stop there. Now Tammy's music would encounter a powerful new inspiration.
"The healing that began through painting led me to want more joy. I sought out counsel and started trauma therapy which led me to be able to write songs with more depth and with more hope, as well," Tammy said.
A collection of these songs became Tammy's next album, Liberty Spoke to Me, released in 2010. "Liberty spoke to me / Said I did not have to be cast down," she wrote. "I can be free / Oh, Liberty, she found me."
Later that year, Tammy met fellow musician and world traveler Joseph Bamber, beginning a new journey of love and creativity.  The couple soon married and formed Chasing Summer, described as "an international folk/rock duo whose music can be described as stomp-clapping, newgrass-infused Americana."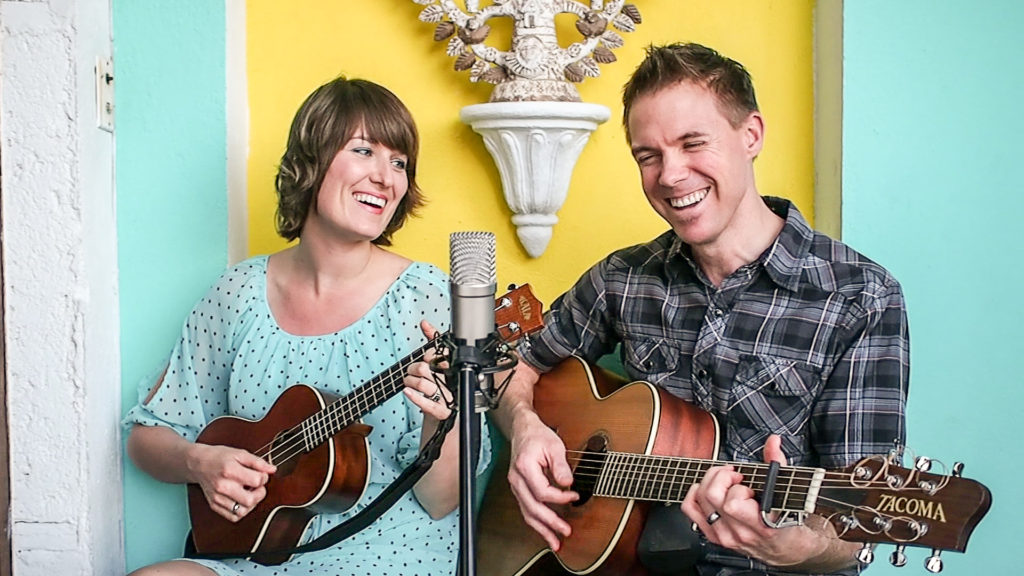 As Chasing Summer traveled the world, enchanting crowds with their soulful harmonies, Tammy and Joseph were looking for a way to share creativity as a path to healing. They launched a Kickstarter campaign for Let the Sunshine In, a tour bringing music, art, songwriting, and creativity workshops to children all over the world.
"We believe art and music can heal the heart on a deep level," they said. "We have seen it firsthand in our own lives, and we've seen it in the lives of kids all over the world. Our hope is that in doing art and music together, these kids will feel more freedom to create, express, understand their emotions, and have tools to create masterpieces or simply to dream again." Over 100 backers signed on for the project, and Let the Sun Shine In was born.
"We wrote songs for the kids, recorded an album, traveled to Nicaragua, Costa Rica, Germany, Poland, Israel and the US doing songwriting, recording, music, and art workshops. We set up a mini-recording studio in each place for the kids," Tammy said. "You can hear these sweet kids singing on the children's record."
Tammy sings of her journey on the Let the Sunshine In album: "Things of this world can break your heart in two / I've been there, too, my friend, let me share this light with you / Let the sunshine in."
Chasing Summer recently returned to Nashville after two months touring Germany, England, the Netherlands, and Switzerland – this was Tammy's 19th European tour.  In the days leading up to the tour, Tammy was busy creating new soaps for her beauty line, Coco Scrubs and Soaps. She used the leftover dye from this year's Easter eggs to create dozens of cards, handmade personal thank-you's for promoters and hosts. And every week, Tammy made sure to set aside time to paint.
"Usually I have lists of all of the things that I have to get done, and I'll get caught up in pushing myself to just bear-down and get through it," she said. "I found that things actually go better for me if I give myself 30 minutes to paint, to get in the right mindset. Somehow it recharges me and I'm able to get the other list items done without such a struggle."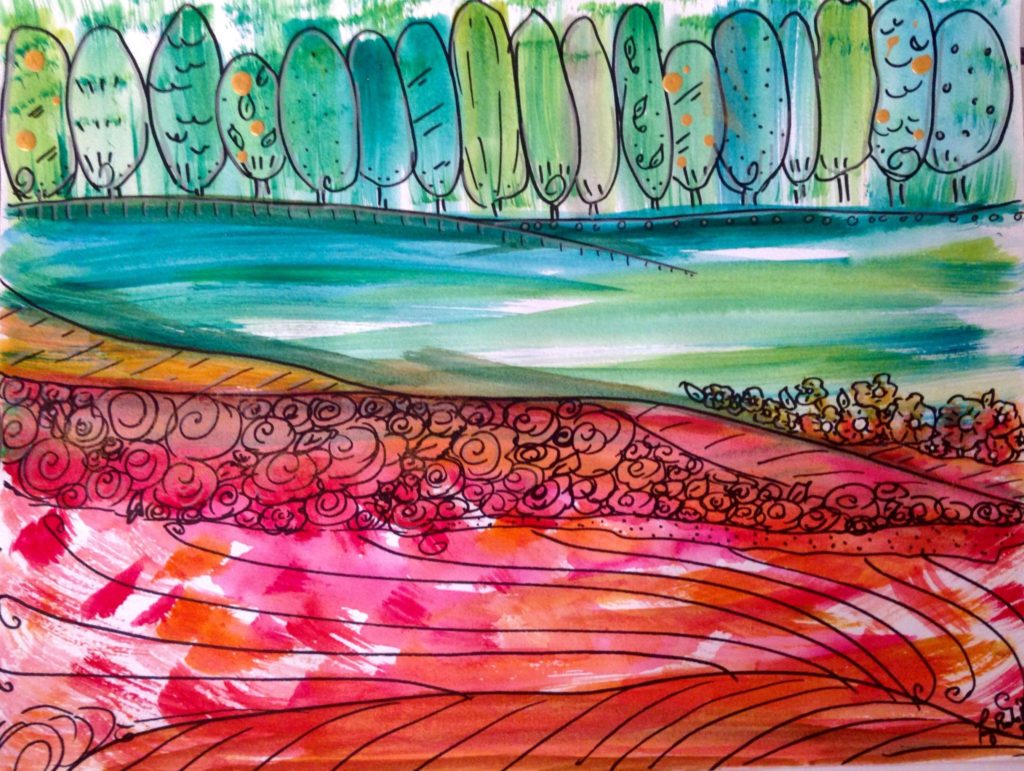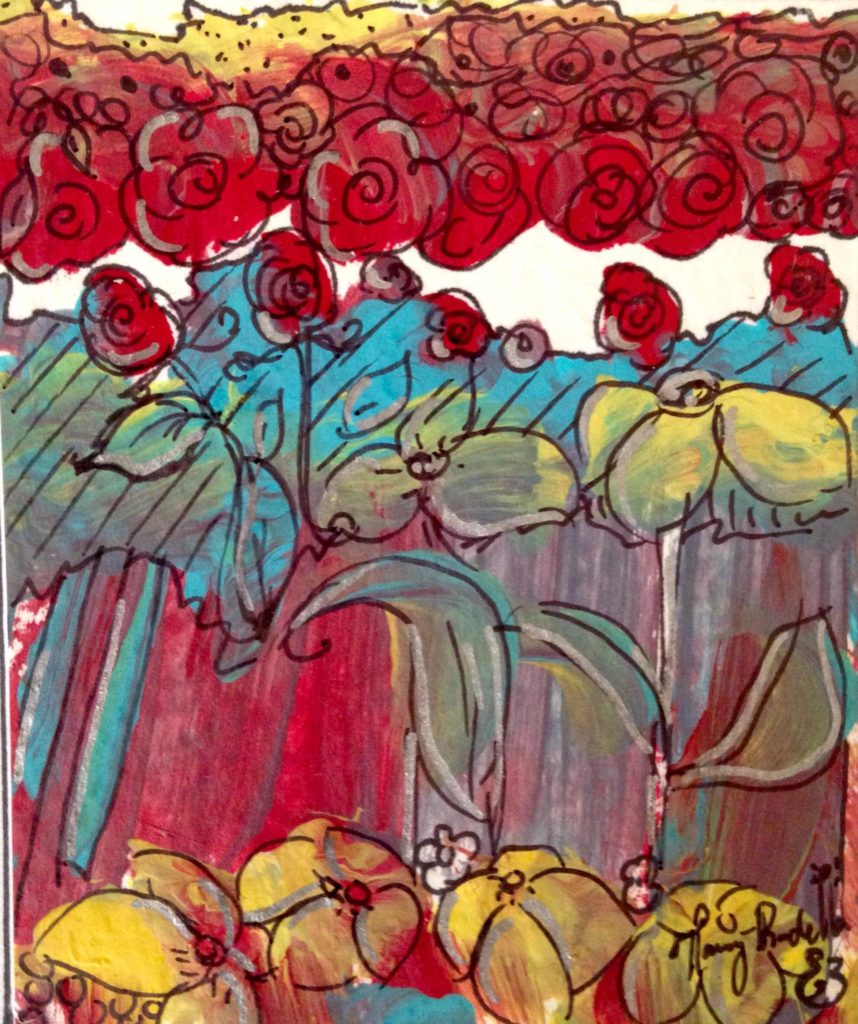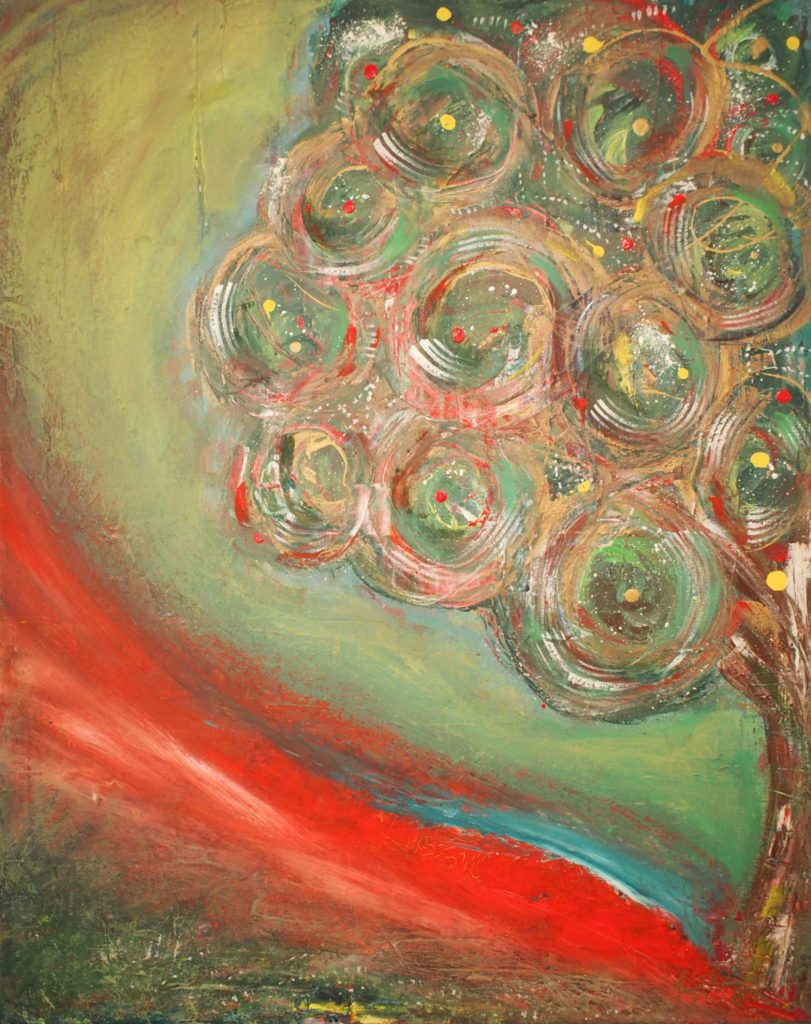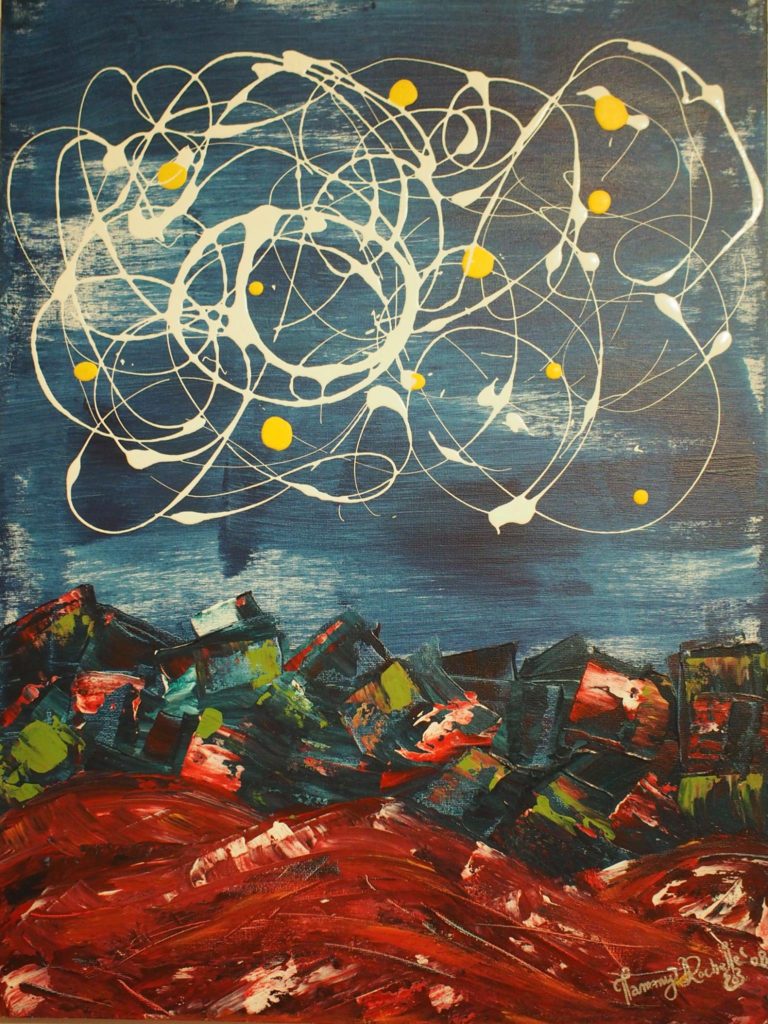 Which is why I found myself, midway through writing this piece, wandering the aisles of my local arts store, investigating brushes, debating between acrylics and watercolors. I've barely held a paintbrush in my life, but listening to Tammy's story, I have this suspicion that when we stand in front of a blank canvas, something wonderful is going to happen.
Every human heart holds some hurt in search of healing. "You know," Tammy said, "I truly believe that art and music have these sneaky and amazing abilities to bypass your defenses and get into your soul and heal you from the inside out."
Listen to the music of Tammy Rochelle and Chasing Summer
View more of Tammy's artwork
Check out Tammy's Coco Scrubs – Homemade Sugar Soaps and Scrubs